Commercial Driver's License
IMPORTANT: Effective on or after July 1, 2018, Kansas law (KSA 8-2, 157) will require all CDL holders to complete Truckers Against Trafficking training before being issued or renewing their CDL license.
The training involves watching a brief educational film and successfully answering questions about it. This video and test takes about 30 minutes and is free of charge. It must be completed only once, not each time a driver renews.
The required training can be completed online at the Truckers Against Trafficking (TAT) website (http://education.truckersagainsttrafficking.org) or at any full service driver's license exam office across the state. A printed certificate of completion will be offered upon successful completion of the online training and must be presented at the time of issuance or renewal of their CDL. Individuals who have previously completed TAT training before the requirement went into effect and who have received their certificate of completion will not be required to take the training again, but will need to present their certificate at the time of issuance or renewal.
If you are issued or renew before July 1, 2018 the certificate will not be required or accepted until your next renewal.
Please note, conducting the training online and presenting the examiner with a printed certificate will reduce your time spent at the exam station.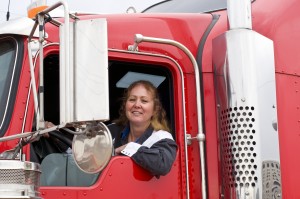 You must have a Commercial Driver's License (CDL) to operate any single vehicle with a gross vehicle weight of 26,001 pounds or more or a combination vehicle with a gross combination weight rating of 26,001 or more pounds.
CDL information
Frequently asked questions
Reciprocity Agreements with Nebraska, Missouri and Oklahoma
Kansas has entered into reciprocity agreements with Nebraska and Missouri relating to Commercial Driver's License (CDL) requirements and farm use.
Contact Vehicles Regarding Your Commercial Driver's License
Telephone (available Monday through Friday, 8:00 am to 4:00 pm)
785-296-3671
Email
---
Commercial Driver's License FAQs
A CMV skills test can take from one hour to one and one half hours depending on conditions
To ensure that a CDL examiner is available to administer the test, scheduling is necessary
Skills test and test examiners may be monitored for quality control purposes
CMV Testing schedules vary depending on business conditions. Please call a CDL testing facility in advance to determine test availability.
To comply with Federal Law, a Kansas law was passed which created the "S" endorsement for School Bus drivers.
Assuming you already have the "P" endorsement, you will have to pass an "S" endorsement knowledge test and a road test in a school bus representative of the type of school bus you will be driving. If you don't already have the "P" endorsement, you will have to pass the "P" endorsement knowledge test also.
No. You only need the "S" endorsement to operate school buses, or buses contracted by a school district to transport school children.