The REAL ID Act was passed by federal lawmakers in 2005 to enact the 9/11 Commission's recommendation for a "set standard for the issuance of sources of identification." This established a minimum security standard for state-issued driver's licenses. At this time, if you already have the REAL ID indicator on your Kansas credential, you will not be required to present those documents again to keep that on your credential.
Please note: This is subject to change.
Beginning May 7, 2025, anyone 18 years and older will need a REAL ID compliant driver's license or another acceptable form of ID to fly within the United States.
In addition, a REAL ID will be required to enter federal facilities where identification is currently required for entrance.
Courts, Post Offices, Social Security offices do not require identification for entrance, so they are exempt.
Kansas began issuing REAL ID credentials in August 2017. REAL ID is not a required credential but will help ease the check-in process when flying or entering a federally protected facility.
What Does a Real ID Credential Look Like?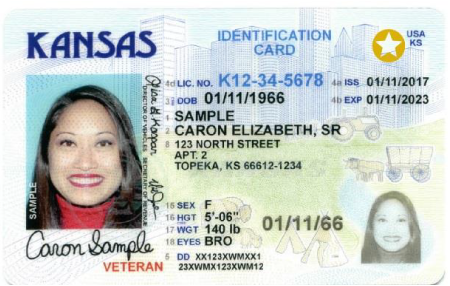 REAL ID COMPLIANT
(CREDENTIAL HAS A GOLD STAR IN THE UPPER RIGHT CORNER)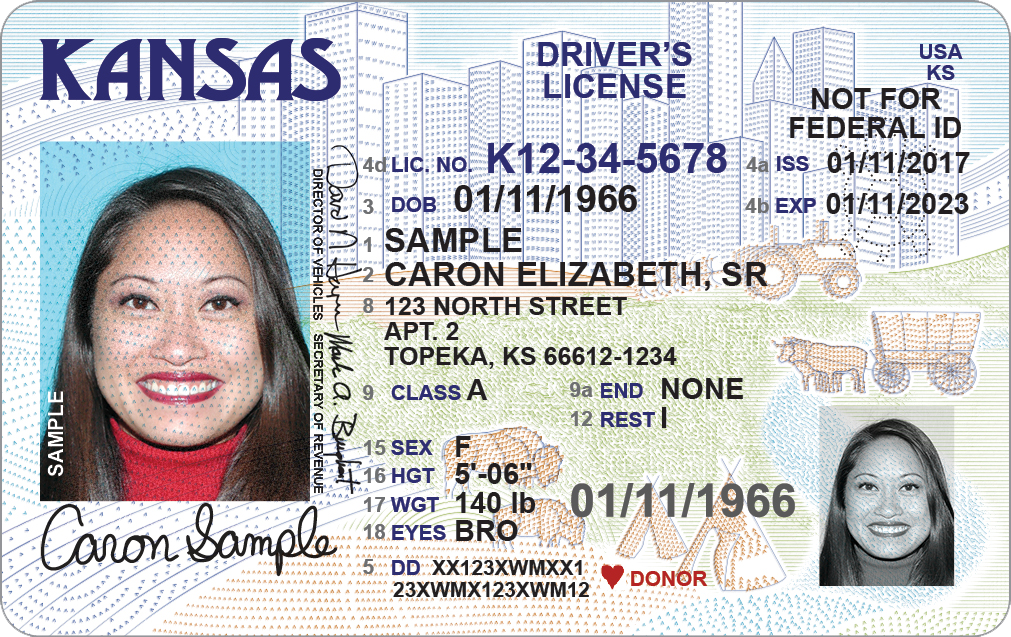 NOT FOR FEDERAL USE
(CREDENTIAL FOR PEOPLE NOT WANTING REAL ID)
HAVE A QUESTION ABOUT REAL ID?
CONTACT US.
785-296-3671
or
KDOR_DL@KS.GOV
Transportation Security Administration:
866-289-9673
Find your Real ID Document Status with a Driver's License Status Check!
The Division of Vehicles began requesting and scanning documents from Kansas residents since 2012. If you have renewed your license in the years 2012 through 2017, your documentation may already be on file and ready for you to visit an office to receive a Real ID. Find out if your documents are on file by getting a driver's license status check.
Once you enter your information into the status check portal, there is a section titled Real ID.
If it says yes, the Department has the information needed for you to receive Real ID. If you do not have it on your license, simply visit a driver's license office for the upgrade.
If it says no, you will need to bring the information requested in the Real ID checklist to a driver's license office.
You can visit your driver's license office up to one year in advance of your license or identification expiring.
Click the following button to get a status check.
What Documents do I Need to Bring to Receive a Real ID?
1.) You will need to provide proof of lawful presence.
Please select ONE from the list below:
State Issued Birth Certificate
Unexpired U.S. Passport
Unexpired Permanent Resident Card
Unexpired Employment Authorization Card
Naturalization Certificate
Consular Report of Birth Abroad (FS-240)
2.) You must provide proof of your Social Security Number.
Please select ONE document from the list below:
Social Security Card
Current W-2 or 1099 showing full Social Security Number
Current pay stub showing full Social Security Number
3.) You MUST provide two proofs of current Kansas residential address. Proof must be dated within the last year.
Junk mail or personal letters will not be accepted.
The following are examples of documents that can be used to prove Kansas residency:
Rent or Lease Agreement
Renewal Postcard
Vehicle Registration
Utility Bill
Financial Institution Documents (Bank Statement, Deed, or Mortgage)
4.) If your name is different than documents in number one above, (due to adoption, marriage, divorce, court ordered name change, or is not the same on all of your documents) you MUST provide proof of the name change.
The following are a few documents that will be accepted to prove a legal name change:
Certified State Issued Marriage Certificate
Court Ordered Divorce Decree
Any Court Ordered or Legal Name Change Documents
Legal Adoption Paperwork
PLEASE NOTE: DOCUMENTS PRESENTED MUST BE ORIGINAL OR CERTIFIED COPIES.
ELECTRONIC DOCUMENTS CANNOT BE ACCEPTED.
You can order certified vital records through the Office of Vital Statistics at http://www.kdheks.gov/vital/index.html
---
Real ID Frequently Asked Questions