Kansas Disabled Veteran Plate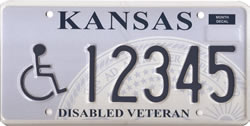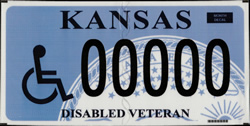 A disabled veteran plate may be issued for an auto, motorcycle or truck registered for 20,000 lbs. or less which is titled in Kansas in the name of the disabled veteran or leased by the same.
Effective 7/1/2022 there are 2 types of disabled veteran license plates.
For a Disabled veteran who is also a disabled citizen and provides validations per K.S.A. 8-1,124, Kansas continues to have the plate with the international wheelchair emblem.
For a disabled veteran who does not meet the criteria of a disabled citizen or who chooses only to meet the qualifications for a disabled veteran, we have a disabled veteran plate without the international wheelchair emblem.
To qualify you must:
Be a Kansas resident.
Have served in the armed forces of the United States and are entitled to compensation for a service-connected disability of at least 50% according to the laws administered by the veterans administration, or
Be entitled to compensation for the loss, or permanent loss of use, of one or both feet or one or both hands, or for permanent visual impairment of both eyes to a prescribed degree, or be responsible for the transportation of a disabled veteran who meets the qualifications above.
Vehicle must be titled in Kansas in the name of the applicant, or the disabled veteran must be listed as lessee with a leasing company from which the applicant is leasing the vehicle, or the person requesting the plate must be responsible for the transportation of a qualified disabled veteran.
The initial Application for Disabled Veterans License Plate, form TR-103, must be completed and signed by both the disabled veteran and the regional director for the Veterans Administration prior to making application of a plate without the symbol. For a plate with the symbol, you will need a medial professional's signature in addition to the signatures above. The form is on the web at: https://www.ksrevenue.gov/pdf/tr103.pdf.
Steps to obtain the plate:
Make application and submit the completed and signed Application for Disabled Veterans License Plate form at your local county treasurer's motor vehicle office.
Proof of valid insurance must be present at the time of application.
If the disabled veteran license plate is to replace another license plate already associated with a registration, the current license plate shall be surrendered.
Fee for Disabled Veteran plate:
There is no registration fee for the initial Disabled Veteran plate at the time of application or renewal. Property tax must still be paid for the vehicle to which the free Disabled Veteran plate is issued.
Additional Disabled Veteran plates may be issued, however, standard registration fees and property taxes are due for the vehicles to which the additional Disabled Veteran plates are issued.
Related Kansas Statute(s):
KSA 8-1,145