Pearl Harbor Survivor Plate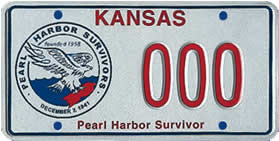 A Pearl Harbor Survivor plate may be issued for an auto, motorcycle, or truck registered for 20,000 lbs. or less which is titled in Kansas in the name of the survivor or leased by the same.
To qualify you must:
Be a Kansas resident or a member of the military who is not a Kansas resident and is stationed at a Kansas military base or office.
Vehicle must be titled in Kansas in the name of the applicant or the leasing company from which the applicant is leasing the vehicle.
Must meet all the following requirements

Was a member of the United States armed forces on Dec. 7, 1941;
Was on station on Dec. 7, 1941, during the hours of 7:55 a.m. to 9:45 a.m. Hawaii time at Pearl Harbor, the island of Oahu or offshore at a distance not to exceed three miles;
Received an honorable discharge from the United States armed forces; and
Has been approved by the chairperson of the Kansas Pearl Harbor survivors association as being a survivor of the attack on Pearl Harbor.
Steps to obtain the plate:
Make application and submit the proof of status at your local county treasurer's motor vehicle office.
Proof of valid insurance must be present at the time of application.
Fee for Pearl Harbor Survivor plate:
Standard registration fees apply.
Related Kansas Statute(s):
KSA 8-1,139